Hummingbird Cupcake Recipe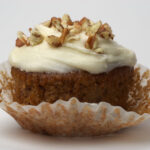 Ingredients

For the cake:

1/4 cup crushed pineapple packed in juice
2 large ripe bananas, mashed
1 cup all-purpose flour
1/2 teaspoon baking powder
1/2 teaspoon baking soda
1/2 teaspoon ground cinnamon
1/4 teaspoon salt
1 stick unsalted butter, at room temperature
1/2 cup sugar
2 large eggs
1 teaspoon pure vanilla extract
1/2 cup chopped pecans



Instructions

To make the cupcakes:

Preheat the oven to 350 degrees F. Line a 12-cup muffin pan with paper cupcake liners.

Add the pineapples and bananas to a medium bowl. Mash together with the back of a fork and set aside. Whisk together the flour, baking powder, baking soda, cinnamon and salt in a separate medium bowl.

Add the butter and the sugar to a large bowl. Beat with a hand-held mixer until light and fluffy, 3 to 4 minutes. Beat in the eggs , one at a time, and then the vanilla extract. Add the dry ingredients into the wet by scoopfuls and beat until thoroughly combined. Beat in the pineapple and bananas, being careful not to over-mix. Fold in the pecans. Use an ice cream scoop to fill each tin three-quarters way full.

Bake until the tops turn golden brown and when a toothpick inserted in the middle of the cupcake comes out clean, 18 to 20 minutes. Remove the cupcakes from the oven to a wire rack and let cool completely before frosting .

Frost the cupcakes with the Cream Cheese Frosting once cool.



For the frosting:

8 ounces cream cheese, at room temperature
4 tablespoons butter, at room temperature
3 cups powdered sugar
2 teaspoons vanilla extract



To make the frosting:

Add the butter and cream cheese to a large bowl and beat together until smooth. Add the powdered sugar and vanilla and continue to beat until smooth and light.